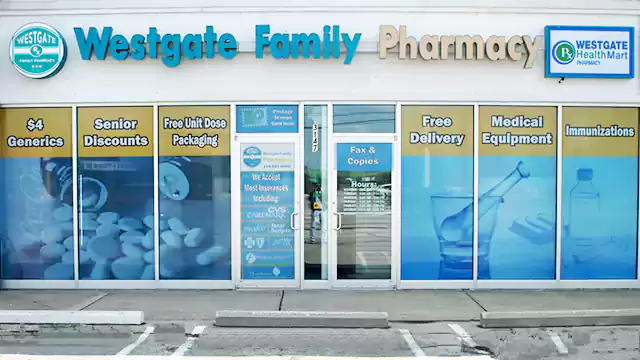 The Westgate Family Pharmacy
Westgate Family Pharmacy is an independently family owned pharmacy that is dedicated to serving the community, and offer the best service we can to guarantee our customers satisfaction.
See our review in The Toledo Blade
Our experience allows us to offer our customers a multitude of benefits such as:
Free specialized blister packaging for your prescriptions
Guaranteed lowest cash prices
Most refills are filled in less than 10 minutes
Free local prescription delivery
Free 24/7 prescription refill hotline
We accept most major insurance plans including, Ohio Medicaid, Paramount Health Advantage, TriCare, CVS Caremark, Buckeye. Express Scripts, Aetna, Blue Cross – Blue Shield, Medco, and many others.
Pharmacy
The science and art concerned with the preparation and standardization of drugs. Its scope includes the cultivation of plants that are used as drugs, the synthesis of chemical compounds of medicinal value, and the analysis of medicinal agents. Pharmacists are responsible for the preparation of the dosage forms of drugs, such as tablets, capsules, and sterile solutions for injection. They compound physicians', dentists', and veterinarians' prescriptions for drugs. The science that embraces knowledge of drugs with special reference to the mechanism of their action in the treatment of disease is pharmacology.
History of Pharmacy
The beginnings of pharmacy are ancient. When the first person expressed juice from a succulent leaf to apply to a wound, this art was being practiced. In the Greek legend, Asclepius, the god of the healing art, delegated to Hygieia the duty of compounding his remedies. She was his apothecary or pharmacist. The physician-priests of Egypt were divided into two classes: those who visited the sick and those who remained in the temple and prepared remedies for the patients.